Technology
Freedom to trade fast
See It
/

Click It

/

Trade It
We built tastytrade to be one of the fastest, most reliable, and most secure trading platforms in the world. At tastytrade, you can invest your time as wisely as you do your money. With our See It, Click It, Trade It design, your trading becomes efficient, confident, and current. What's not to love?
Curve Analysis
The curve view gives you a visual way to intuitively set up trades for entry. With a click & drag interface and clear profit and loss zones, you can adjust your strikes and expirations quickly and easily…while keeping an eye on your Probability of Profit!
Quick Roll
The quick roll feature allows you to roll your option position into the next expiration cycle with a simple right-click. You can set your default rolls to the next weekly or monthly expiration cycle for efficient trading that works for you.
Quick Order Adjustments
Working orders can also be adjusted with a simple right-click. You can cancel, replace, duplicate, or even invert working orders that haven't been filled yet. Once an order has been filled, you can quickly double down on trades you like or close the ones you don't.
Percent of Profit Limit Orders
You can choose probabilities over prediction with percent-of-profit limit orders. Instead of picking a random price target for your position, you can choose a price that has better odds of occurring.
ETF-Equivalent Futures Delta
Futures are complex, but understanding risk doesn't have to be. With varying tick-sizes and notional values, finding true delta exposure can be tough without a benchmark. We have created an easy way for you to see your ETF-future equivalent delta.
In-App Trading Inspiration
Everyone goes through trader's block. It happens. That's why we pump fresh insight straight into the tastytrade platform. We have a dedicated feed where you can see what really excites our select traders, and we provide access to a live video stream where you can watch smart traders tackle the markets in real time.
A PLATFORM TO FIT THE WAY YOU TRADE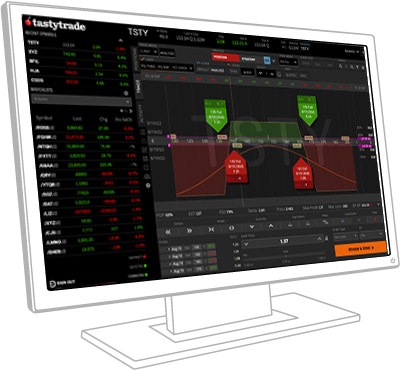 Desktop
You're at mission control with your fingers on the mouse, eyes on the market, and brain on full blast. tastytrade on your computer and a big screen make for full immersion in trading power.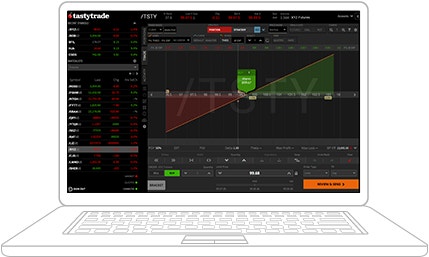 Browser
If you prefer to trade in your web browser, then we've got one of the most robust web-based trading platforms in the industry. You can access it from any computer (even the one your IT department doesn't allow you to install software on), and you get all the same functionality as our downloadable version!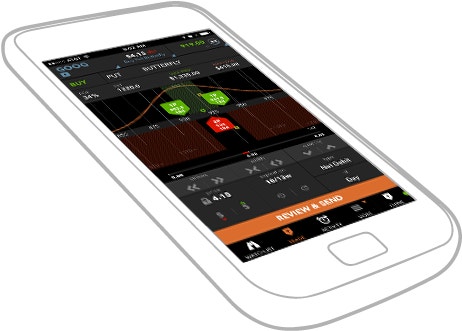 Mobile
We know you're busy, but you still need to stay on top of your trading. tastytrade mobile is discreet and fast enough to trade while in meetings, on lunch dates, and anywhere else you can get a signal.
*Requirements
In general, the following operating system versions are supported. Other older versions may work, but are not officially supported.
Windows: Windows 10 minimum, Windows 11 recommended

Mac OS X: version 11 minimum, 13 recommended

Linux: Ubuntu 18.04 LTS minimum, 18+ recommended

iOS/Apple Mobile : iOS 14 minimum

Android : 11 minimum, 13 recommended
Disclaimer
System response and access times may vary due to trading volume, market conditions, system performance, and other factors.