Cryptocurrency (aka crypto) is a digital asset that is secured by cryptography. Great for providing both security and safety, cryptography allows users to send payments all around the world while maintaining secure communication between the sender and intended recipient. Crypto requires encryption to verify transactions. This means coding is needed for both storing and transmitting cryptocurrency data between wallets and public ledgers. A major benefit of the currency is this can be done privately without the need for a central monetary authority such as the government or a bank.
So, how did crypto-currency actually come about?
It was in 1998 that the term "cryptocurrency" was first coined by computer engineer Wei Dai. Later, Dai proposed B-money - a platform that would ensure crypto decentralization and removal of bank verification; however, B-money was never launched. Still, Dai's ideas inspired Bitcoin founder Satoshi Nakamoto to launch his now iconic cryptocurrency in 2009, just after the economic crisis in 2008. Satoshi managed to solve a double-spending issue that had plagued previous iterations of blockchain cryptocurrencies, through bringing together numerous technologies and assembling them into Bitcoin - from this period on, Bitcoin boomed.
But why the sudden interest in cryptocurrency now?
Similar to the uptick in crypto activity during the economic crisis of 2008, Bitcoin went mainstream midway through 2020 thanks to the Covid 19 pandemic. During the pandemic, Bitcoin surged by 300% in 2020 amid speculation in the financial market that investors were hoarding the digital currency–due to a low-interest rate in the market.1 It could also be argued that the surge in demand for BTC throughout the pandemic was also because the Fed increased the money supply substantially. With a combination of inflation, falling interest rates, and the ability to lend and move money becoming way less accessible mid-way through the pandemic, crypto was the perfect solution for many investors - in spite of its volatility.
Currently, there are more than 2,000 cryptocurrencies worldwide, and nearly 36.5 million people in the U.S. own some form of cryptocurrency - a pretty impressive number.2
This tastytrade study takes a deep dive into the current state of crypto within the United States and around the world. We have analyzed a variety of factors, including:
Demographic data of the crypto investor
The countries and cities which are most invested in crypto
Number of bitcoin ATMs in each country and U.S. state
The most popular cryptocurrency by country
Current crypto sentiment
A breakdown of top cryptocurrencies by market cap
The top performing historical cryptocurrencies
It's essential for investors to have a clear picture of the industry in its current state. In comparison to other investment platforms, cryptocurrency is a relatively new offering, and it's important to note that its market is still very volatile. Before investing in cryptocurrency, it's vital to understand how it works, where it can be used, and how to exchange it.
At present, even though North America may be the biggest trailblazer in terms of rapidly normalizing cryptocurrency, this adoption isn't taking place everywhere at the same speed. Surprisingly, some smaller states are outpacing large metropolitan areas like New York. And worldwide, some unexpected countries are taking the lead in crypto adoption and popularity.
WHO'S INVESTING IN CRYPTO?
We analyzed internal demographic data, as well as data from the top 10 sites dominating the crypto market, in order to take a deep dive into who exactly is investing in crypto now. Within this study, we looked into a wide range of factors, including age, location, and each demographic's favored cryptocurrency.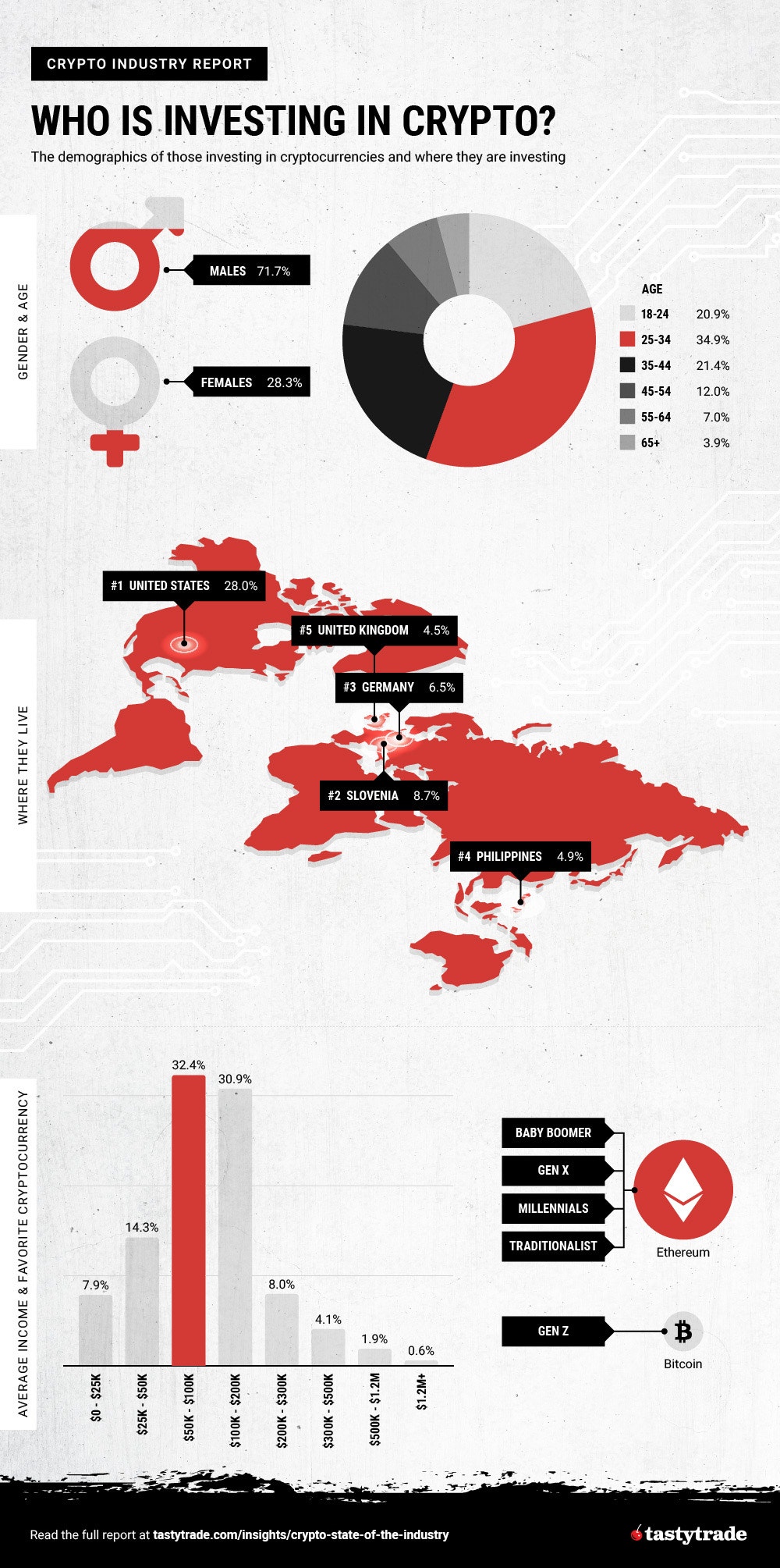 Next, let's explore whether or not age affects the likelihood a person will invest in crypto?
Data shows that a huge portion of the cryptocurrency playing field is composed of younger generations - with age demographics between 18-44 making up the largest share of crypto investors. Thanks to the digital world they grew up in, both the Gen Z and Millennial generations are a lot more tech and social media savvy when compared to the Silent Generation and Baby Boomers. This has in turn increased the visibility of digital investment and, subsequently, made it more appealing to younger generations.
Data also highlights that millennials are the most likely age demographic to invest in cryptocurrency. 25-34-year-olds shared the largest percentage of investors across all analyzed crypto sites with a 34.9% share of the average total, followed by 35-44 year-olds with 21.4%. The Gen Z generation (18-24-year-olds) makes up 20.9% of the overall share. Studies also suggest that millennials are typically more advanced in their careers than Gen Z. As a result, Millennials have a greater amount of disposable income to be used for investments (which could suggest why their share of the crypto market is larger - at least for now).
When compared to older generations, Millennials are typically less risk-averse regarding volatile investments. This risk-on appetite is due to Millennials' longer time horizon to retirement, which may allow them to recoup monetary losses. A study finds that individuals between $750 and $999 in disposable income each month are most likely to invest in crypto.3 Interestingly, those with a higher amount of disposable income are actually less likely to invest - given that those with higher disposable incomes also skew older and are more likely to be nearer to retirement age.
Baby Boomers are the least likely age to invest in crypto across the board. The Baby Boomer generation is more risk averse - and untrusting of the new currencies (as crypto is a fairly recent addition). Thanks to a wide range of volatile characteristics, older generations are simply less likely to be bullish and trusting in the currency than perhaps younger generations.
As with many other forms of investing, there is also a significant gender disparity within cryptocurrency. Males take up a whopping 71.6% of investors - leaving a small share (28.3%) to women. Even though the crypto culture was built with democratizing money in mind, a lot of women have stayed on the sidelines of the Bitcoin boom. With men investing in Bitcoin at more than twice the rate of women, it is evident that some women are untrusting of the industry's sharp price swings and often unregulated investment laws.
As far as preferred coins, the most favored cryptocurrency amongst all generation groups was Ethereum (ETH) - with one exception: Gen Z (21 years and under) typically favored Bitcoin (BTC).
From our pulled data, we also noticed both Baby Boomers and Gen X have Polkadot (DOT) listed in their top three favorite cryptocurrencies. Polkadot is a protocol that connects blockchains - allowing value and data to be sent across previously incompatible networks such as Ethereum and Bitcoin. It is both speedy and scalable.
Across Baby Boomers, Gen X, Gen Z, and Gen Y age demographics, Shiba Inu (SHIB) ranked within the top five cryptocurrencies. Designed as an Ethereum-compatible alternative to Dogecoin, Shiba Inu is a token, not technically a coin. Tokens are created on top of existing blockchains - meaning Shiba Inu doesn't have its own blockchain system. This means Shiba Inu can be decentralized and made widely accessible.
Litecoin, aka LTC, ranked within the top five of all generations aside from traditionalists (those typically aged between 75-95). Litecoin shares features with Bitcoin but runs on a different algorithm. Litecoin's goal is to become a medium for daily transactions and to offer a faster processing time than Bitcoin.
The Average Net Income of the Crypto Investor
The most likely average income of a crypto investor is 50k-100k, this wage demographic takes up a huge 32.4% of crypto investors. Next in line is a wage demographic of 100k-200k taking up 8% of trading customers. Interestingly, the least likely wage demographic is 1.2M+, with only 0.6% of trading customers. Those earning a small wage bracket between 0-25k still make up 7.86% of trading customers - which is a considerably larger number than those with the highest net worth.
Cryptocurrency and Celebrities4:
The cryptocurrency boom also caught the attention of some big celebrity names. The top celebrities investing in crypto are:
Elon Musk
Jack Dorsey
Mike Tyson
Maisie Williams
Mark Cuban
Snoop Dog
Steven Seagal
Kanye West
Floyd Mayweather. Jr
Out of the top ten celebrity Bitcoin investors, just one of them is female - Game of Thrones star Maisie Williams.4
So, where are most of the crypto investors located in the world?
The U.S. alone is responsible for nearly 28% of crypto investors - that's nearly a third of the worldwide total. But why? Firstly, the United States is the third largest country in size and nearly the third largest in terms of population, with plenty of businesses accepting crypto investments. Since China banned Bitcoin in 2021, the U.S. has become the leader in Bitcoin mining. This is due in part to the country's wide range of access to renewable energy sources, low energy prices, and pro-cryptocurrency policies.
The U.S. is followed by Slovenia, which takes up 8.7% of worldwide crypto investments. The Slovenian government has shown a huge interest in cryptocurrency - openly encouraging Bitcoin. In Slovenia, capital gains tax isn't charged on money earned from crypto and cryptocurrency mining, as opposed to other countries which charge a large amount of tax for crypto capital gains.5
Known as one of the world leaders in economy, Germany is the third highest hub for crypto in the world, with 6.5% of worldwide investor share. Although the currency is not completely tax-free for all German residents, after a year of holding Bitcoin or another form of crypto, investors are not liable to taxation on those assets. This provides their citizens with a sustainable, long-term crypto investment strategy.
THE WORLDWIDE CRYPTO HOTSPOTS
The below graphic shows the top ten countries where crypto is searched for the most.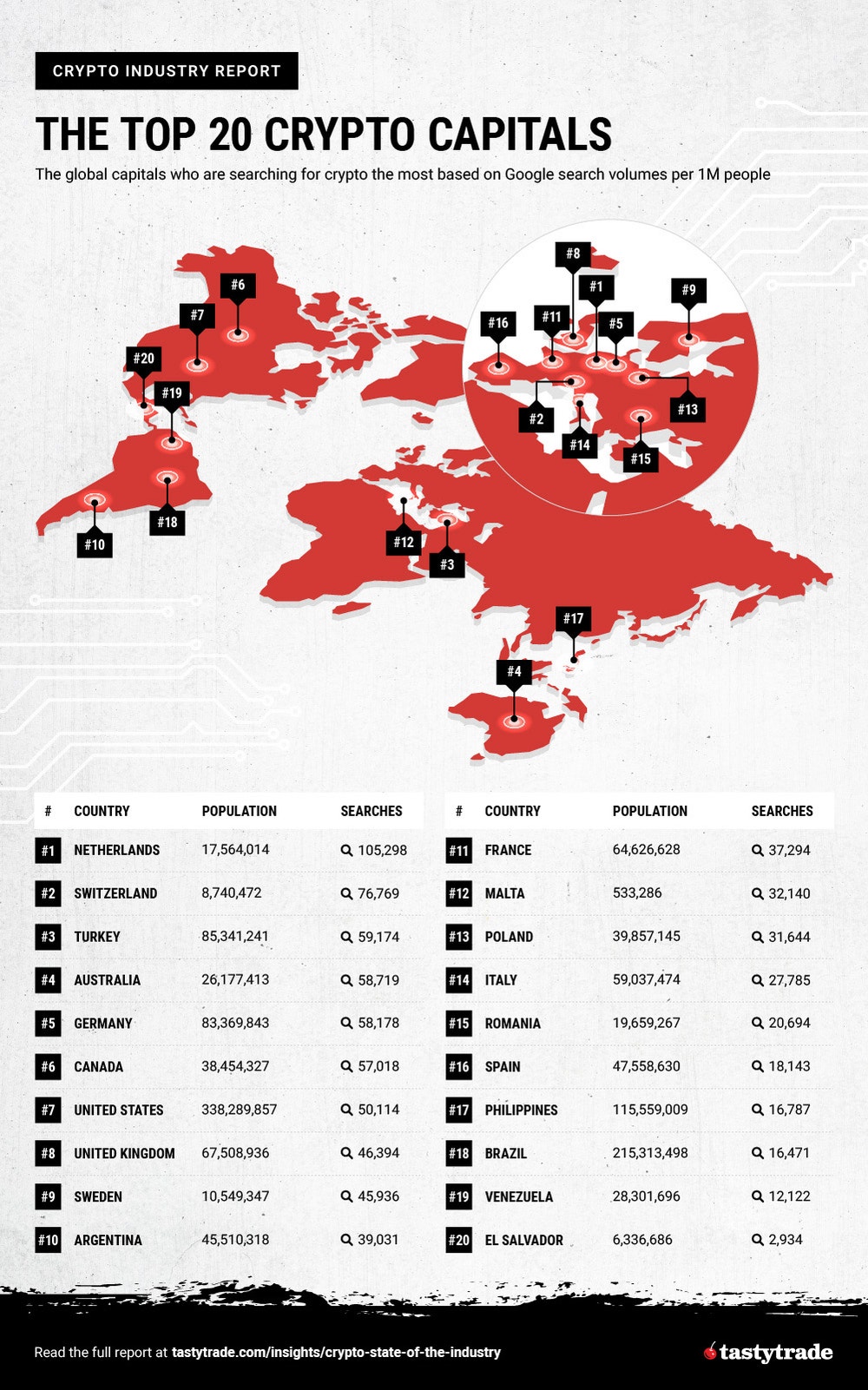 Throughout the study of crypto capitals of the world, we analyzed the overall search volume of the phrases 'crypto' or 'cryptocurrency',9 as well as the search volume per one million people. This allows us to identify the top ten countries where crypto is being searched most frequently.
With a fairly low population in comparison to other countries, interestingly, the Netherlands takes the win as the most searched for crypto capital of the world - with an overall monthly search volume of 1.8 million - but why are the Dutch searching for crypto so much?
1. THE NETHERLANDS
Firstly, the Netherlands is known to be one of the richest countries in the world, with innovative investment attitudes and a government that trusts in crypto.
The huge search figures are represented through the Netherlands' consistent early adoption of new technologies, the government's willingness to see potential in cryptocurrencies, as well as The Dutch Bank regularizing cryptocurrencies.
Amsterdam's known for favorable regulatory environments - the government's formal hands-off approach to regulations across the board has allowed the Netherlands to become a welcome environment for Bitcoin traders.
Crypto regulations have tightened in recent years in the Netherlands, making it essential for crypto companies to act in accordance with the 5th Anti-Money Laundering Directive or 5AMLD.
The regulations set in place reduce inherent risks, including money laundering and the financing of terrorism. Increased regulations are seen to boost trust with cryptocurrency in the country and increase public confidence.
The Netherlands additionally decided on an innovative approach to blockchain currencies. The government adopted new blockchain pilot projects and pushed for new prototypes, project implementation, and international partnerships.
Amsterdam's government is consistent in sourcing new cryptocurrencies, and the country's developed financial infrastructure makes it easy to buy and sell Bitcoin throughout the Netherlands.
2. SWITZERLAND
Second on the list for search is Switzerland, with a search volume of 76,769 per 1,000,000 people. Interestingly, the country has made huge steps in recent years to open its financial markets to cryptocurrency, despite its traditional 'old money' banking system.
In February 2021, it passed what is known as a 'blockchain law', which allowed for fully-regulated cryptocurrency. As a result, Switzerland is set to remain a frontrunner in the crypto race for dominance.
3. TURKEY
Behind Switzerland is Turkey, with a vast population of 85.3 million and a high search volume of 59,174 per 1,000,000 people.
In a financial environment where the Lira loses value almost daily, cryptocurrency has seen a huge spike in interest due to residents looking for means to protect their savings from devaluation. According to our research, there are 5.5-6 million Turks who hold cryptocurrency accounts in the country.6
4. AUSTRALIA
Australia is ranked fourth with 58,718 searches per 1,000,000 people - fueled by positive attitudes toward crypto and unregulated laws on Bitcoin.
Australia is known to be a friendly environment for cryptocurrencies as the government is not opposed to people investing or trading with them. In fact, cryptocurrencies have been legal in Australia since 2017. Moreover, if Australians are trading with their own assets, they are exempt from tax.
5. GERMANY
Germany ranked fifth, and with no surprise - as a world leader in economics, the German government has welcomed crypto with a long-term investment strategy. As previously mentioned, if German residents sell their crypto assets after a year of holding them, there is no added tax penalty, which is a great benefit for long-term investors.
6. CANADA
Canada sits at the sixth place - a healthy spot within the top ten of highest search results. Canada is known for being the first country to establish a legal regulation on cryptocurrency - known as Canada's Proceeds of Crime and Terrorist Financing Act (PCA). This regulation has helped to bring all entities and persons dealing in cryptocurrencies under the radar of the Canadian government - allowing it to be easier to track transactions and monitor illegal activities.
Canada is also highly equipped for mining cryptos thanks to resources in energy, in particular.
7. THE UNITED STATES
The United States comes seventh with a search volume of 50,113 per 1,000,000 people. It is not surprising that the U.S. ranks within the top ten, as it hosts the highest number of crypto and Bitcoin users worldwide.
Additionally, the U.S. has the most bitcoin ATMs in the world. This result may surprise some readers that the United States has a relatively low position in the top ten.
8. THE UNITED KINGDOM
The United Kingdom ranks eighth with a search volume of 46,393 per 1,000,000 people. At present, Bitcoin isn't controlled through legislation in the UK and is currently treated as 'property' rather than a currency.
THE MOST POPULAR CRYPTOCURRENCY IN EVERY COUNTRY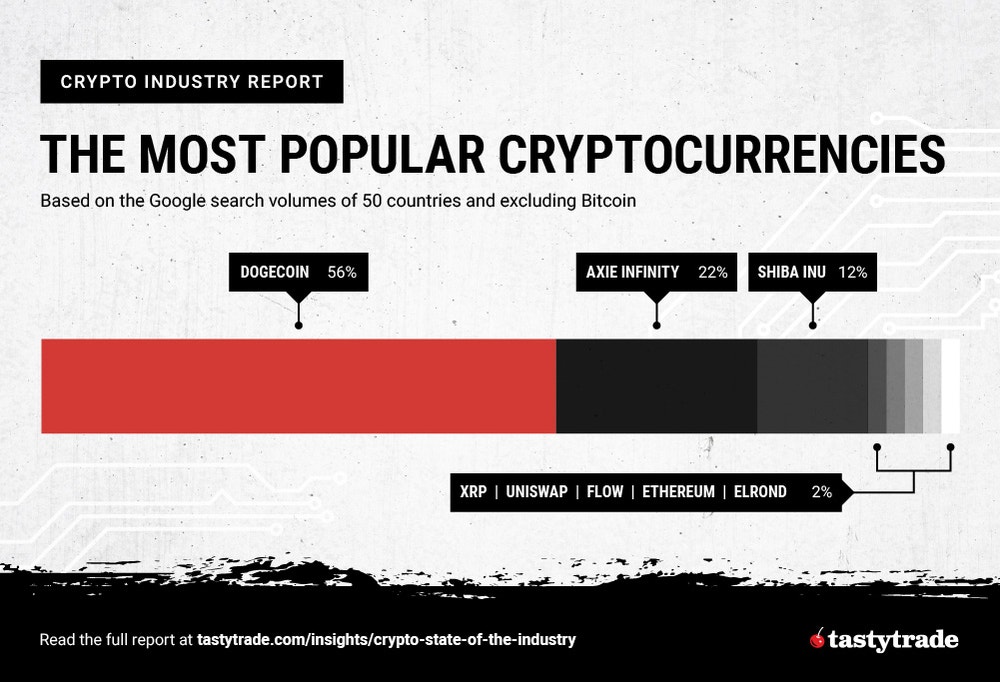 Born in 2008, Bitcoin is the most reactive, favored, and trusted cryptocurrency worldwide. Why? Well, mainly because it was the first cryptocurrency to launch. As of July 19th 2022, Bitcoin had a market price of $22,274.46 and a whopping market cap of $425,391,298,389.
As Bitcoin is the most popular cryptocurrency in every country by large margins, we excluded it from our study to reveal other leaders in the space, such as Dogecoin, Uniswap, Axie Infinity, XRP, Shiba Inu, and Ethereum - has switched to using more eco-friendly validation processes, and is expected to see a significant increase in market share.7 Data was collected from Google Trends, analyzing the most popular cryptocurrencies by country - based on searches for the top 50 cryptocurrencies along with the terms 'crypto' and 'cryptocurrency'.9 An overall search volume was taken and calculated per 1,000,000 people in each country's population - all to see where crypto is being searched the most per capita and, therefore, which coin is most popular.9
The most popular cryptocurrency in every country (excluding Bitcoin)9
| Country | Favorite Crypto (Without Bitcoin) | Country | Favorite Crypto (Without Bitcoin) |
| --- | --- | --- | --- |
| India | Dogecoin | Spain | Shiba Inu |
| United States | Dogecoin | Uganda | Dogecoin |
| Indonesia | Axie Infinity | Argentina | Flow |
| Pakistan | Dogecoin | Iraq | Dogecoin |
| Nigeria | Dogecoin | Afghanistan | Dogecoin |
| Brazil | Uniswap | Poland | Dogecoin |
| Bangladesh | Dogecoin | Ukraine | Dogecoin |
| Russia | Dogecoin | Canada | Dogecoin |
| Mexico | Dogecoin | Morocco | Axie Infinity |
| Japan | XRP | Saudi Arabia | Axie Infinity |
| Philippines | Axie Infinity | Peru | Axie Infinity |
| Egypt | Dogecoin | Malaysia | Dogecoin |
| Vietnam | Axie Infinity | Ghana | Dogecoin |
| Turkey | Dogecoin | Nepal | Axie Infinity |
| Germany | Dogecoin | Venezuela | Shiba Inu |
| Thailand | Axie Infinity | Ivory Coast | Ethereum |
| United Kingdom | Dogecoin | Cameroon | Dogecoin |
| Tanzania | Dogecoin | Australia | Elrond |
| France | Shiba Inu | Romania | Dogecoin |
| South Africa | Dogecoin | Netherlands | Dogecoin |
| Italy | Dogecoin | Sweden | Shiba Inu |
| Myanmar | Axie Infinity | Togo | Shiba Inu |
| Kenya | Dogecoin | Switzerland | Shiba Inu |
| Colombia | Axie Infinity | Malta | Shiba Inu |
| South Korea | Dogecoin | El Salvador | Shiba Inu |
Known as Elon Musk's most favored cryptocurrency, Dogecoin is also one of the most favored cryptocurrencies globally. High in value because of a wide range of factors, including Musk's (in)famous tweets, Dogecoin's space explorations, and even a repost by American Rapper, Snoop Dogg.
During the pandemic, Dogecoin spiked after a viral meme-based TikTok challenge. Since then, it has been a key favorite, second only to Bitcoin in countries including India, the United States, Netherlands, Turkey, the United Kingdom, South Africa, and Canada, to name a few. Since its inception, Dogecoin has quickly amassed a diehard community of fans who found and developed new uses for the cryptocurrency. This includes a third-party online tipping service, which led to Dogecoin becoming a leading tipping coin on social media platform Reddit as well as crowdfunding charitable causes.
Axie Infinity is a blockchain-based game in which players purchase NFTs. As a result, during Axie Infinity sessions, players can earn SLP tokens while they play and trade them for money at an exchange. An SLP (Smooth Love Potion) token is an ERC-20 gaming token that is popular in the game of Axie Infinity - it has an unlimited supply and is known to be the primary source of income within the game. The main component that attracts investors to this cryptocurrency is Axie Infinity's overall earning potential. Axie Infinity has proven popular in countries such as Indonesia, the Philippines, Vietnam, Thailand, Morocco, and Venezuela.
XRP is a favored cryptocurrency in Japan. Tailored to work on the Ripple Network, which acts as a trusted agent between two parties in a transaction - XRPs network can quickly confirm that the transaction went through properly. Complete with a speedy transaction time and small transaction fee, XRP is one of the most favored cryptocurrencies worldwide.
Launched in August 2020, Shiba Inu was created by an anonymous individual and is known as an alternative to Dogecoin. Through our pulled data, we discovered it is widely favored by countries such as El Salvador, Malta, Spain, and France.
Ethereum, typically favored by Cameroon, is known as a decentralized global software that is, again, powered by blockchain technology. It is known to be scalable, programmable, secure, and decentralized - making it another popular choice around the world. It's worth noting that Ethereum has undergone a major change in the way it operates - moving to a more eco-friendly and, by extension scalable, mining process that have made it a more attractive coin overall and could see significant pickup in regions that previously preferred other currencies.7
Flow, commonly favored by Argentinians, has been built for the next generation of apps, games, and digital assets.
THE NEXT CRYPTO HUBS IN AMERICA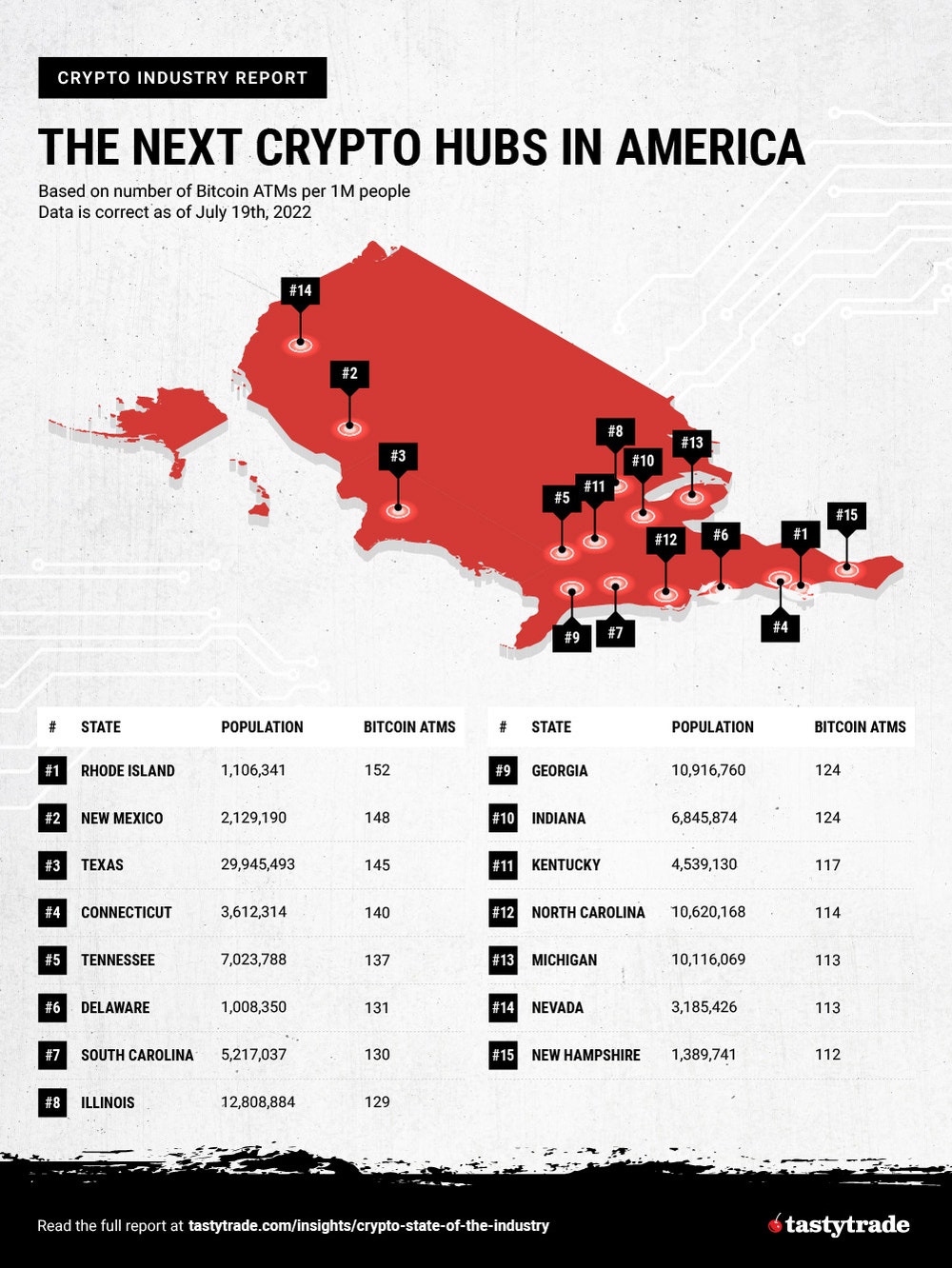 So, what are the up-and-coming Bitcoin hubs in the U.S.?
To calculate this, we measured the number of bitcoin ATMs per 1,000,000 residents for more accurate results. A higher number of ATMs per capita would suggest crypto usage and investment are typically more active within a given community. This, in turn, means accessibility needs to be higher and can also mean Bitcoin may play a disproportionately larger role in the local economies of these states compared to elsewhere in the country.
Despite the U.S. coming in as the seventh crypto capital of the world for search volume - it takes the lead (by a tremendous margin) as most likely to become the next crypto hub. According to Coin ATM Radar, the U.S. has the largest amount of bitcoin ATMs worldwide - a whopping 34,557 in total. Yes, that's 102 ATMs per 1,000,000 people!10
Known as one of the wealthiest countries in the world, with one of the largest populations, it's no wonder that the U.S. stands at the forefront of potential crypto capitals. With a huge amount of bitcoin ATMs, the country is making significant headway in turning cryptocurrency into a crucial part of its standard financial offerings. 'This matches the exploratory moves of Wall Street companies in the direction of crypto, as well as the promotion of Dogecoin by major vehicle company Tesla through Elon Musk.'11
As we see crypto usage increase across the world, there is also a need to put a series of cryptocurrency regulations in place to govern them. In June 2021, Bitcoin was made legal in the U.S. in a wide range of states. At present, legislators in Washington D.C. and across the world are working hard to find the best practice to establish laws and regulations that are safer for investors, as well as less likely for cyber criminals to interfere with. More regulations would mean less volatility in the market, which would make it more attractive to potential investors across a wide range of demographics.
The Next Crypto Hubspots in the U.S.:
Bitcoin ATMS by State
| State | Population | Bitcoin ATMs | Number Of Bitcoin ATMs Per 1,000,000 People |
| --- | --- | --- | --- |
| Rhode Island | 1,106,341 | 168 | 151.9 |
| New Mexico | 2,129,190 | 315 | 147.9 |
| Texas | 29,945,493 | 4341 | 145.0 |
| Connecticut | 3,612,314 | 505 | 139.8 |
| Tennessee | 7,023,788 | 963 | 137.1 |
| Delaware | 1,008,350 | 132 | 130.9 |
| South Carolina | 5,217,037 | 680 | 130.3 |
| Illinois | 12,808,884 | 1650 | 128.8 |
| Georgia | 10,916,760 | 1357 | 124.3 |
| Indiana | 6,845,874 | 850 | 124.2 |
Looking at the states within the U.S. where bitcoin ATMs are most common, Rhode Island takes the largest share with 152 ATMs per 1,000,000 people. In May 2022, a Rhode Island representative proposed an interesting solution to the state's housing crisis and climate change - by introducing a new cryptocurrency. This blockchain-backed housing bill will, in turn, issue a digital currency to incentivize sustainable housing in the state.
New Mexico lands second with 148 ATMs per 1,000,000 people. This could be due to how well Bitcoin mining has taken off in the U.S. state. New Mexico is a great hub for Bitcoin mining because it has a vast amount of cheap electricity and land resources. Although Bitcoin mining is super energy-intensive, the net result has been a largely positive impact on the New Mexico economy.
Texas ranks third, with 145 bitcoin ATMs per 1,000,000 people in total. Crypto has become increasingly popular in Texas. This popularity may be due in part because of a June 2021 cryptocurrency law which confirmed the legality and legitimacy of crypto within the Lone Star State.
Surprisingly, relatively large local states (and districts) with densely populated cities, such as New York and Washington D.C., rank among the lowest in the country for crypto ATMs. Despite Wall Street's effort to open up Bitcoin to the masses, lawmakers and regulators in Washington D.C. are reluctant to abide. With crypto fraud spiraling out of control in the U.S, D.C. fears that blockchain currency is not decentralized and secure enough to embrace.
In June 2022, New York introduced a Bitcoin mining ban throughout the state, which saw a two-year freeze on starting up new bitcoin mining facilities. This ban means that the U.S. is deprived of both the jobs and the economic benefits that Bitcoin mining provides.
Despite the U.S. seeing the highest amount of bitcoin ATMs worldwide, research has shown that many major economies refuse to recognize it as legal tender. U.S. resistance to crypto in places such as New York and Washington D.C. could have a detrimental effect on the United States' competitive position in the industry globally.
Policymakers would benefit from incentivizing more environmentally-friendly technologies within the cryptocurrency industry in order to remove some of the current reservations in places like New York and Washington D.C. to help maintain the country's competitive position.
The Top Cities Where People are Investing in Crypto the Most:
| U.S. City | State | Percentage of Crypto Trades |
| --- | --- | --- |
| Phoenix | AZ | 3.41% |
| Bowie | MD | 2.67% |
| Valley Springs | CA | 2.28% |
| Frisco | TX | 1.58% |
| Chicago | IL | 1.57% |
| Fort Lee | NJ | 1.44% |
| Sacramento | CA | 1.36% |
| Houston | TX | 1.03% |
| Austin | TX | 0.85% |
| San Diego | CA | 0.74% |
| Charlotte | NC | 0.71% |
Phoenix is the U.S region where individuals are trading crypto the most - taking up a 3.41% share of all states. This is because Arizona is one of the few states that have enacted specific regulations for cryptocurrencies - making it easier for their residents to trade Bitcoin and other currencies.
Bowie sits at a firm second place with 2.67% of crypto trades in the U.S.
Meanwhile, Valley Springs in California is widely known as a popular place to buy Bitcoin and sits third place with 2.28% of crypto trades.
THE CURRENT STATE OF CRYPTO
Top Performing Cryptocurrencies (as of July 19th, 2022):
| Crypto Name | Symbol | 2022 Return Year to Date (as of July 2022) | 1Y Returns | 2Y Returns |
| --- | --- | --- | --- | --- |
| Solana | SOL | -72.86% | 92.63% | 4923.36% |
| Polygon | MATIC | -63.83% | 25.25% | 4210.76% |
| Dogecoin | DOGE | -60.26% | -60.97% | 1903.34% |
| BNB | BNB | -48.58% | 0.00% | 1362.39% |
| FTX | FTT | -25.27% | 14.52% | 880.48% |
| Ethereum | ETH | -58.13% | -15.13% | 547.96% |
| LEO Token | LEO | 38.30% | 72.76% | 352.17% |
| Cardano | ADA | -61.72% | -55.22% | 305.43% |
| TRON | TRX | -9.42% | 27.78% | 290.73% |
| Wrapped Bitcoin | WBTC | -52.02% | -27.74% | 143.36% |
| Bitcoin | BTC | -51.90% | -27.72% | 142.48% |
| XRP | XRP | -56.35% | -34.93% | 82.23% |
| Litecoin | LTC | -60.93% | -49.34% | 33.14% |
| Tether | USDT | 0.00% | 0.00% | 0.00% |
| USD Coin | USDC | 0.00% | 0.00% | 0.00% |
| Binance USD | BUSD | 0.00% | 0.00% | 0.00% |
| Dai | DAI | 0% | 0.00% | 0.00% |
| Avalanche | AVAX | -77.35% | 147.70% | N/A |
| Shiba Inu | SHIB | -64.36% | 92.72% | N/A |
| Polkadot | DOT | -70.88% | -29.27% | N/A |
Solana is rated as the top performing cryptocurrency by return on investment as of July 19th, 2022. This may be due to Solana's fast transaction speed and low cost. In fact, Solana can handle more transactions than both Ethereum and Bitcoin combined - around 50,000 per second.
Next in line is Polygon. Polygon is a decentralized platform and a 'layer two solution' that allows for low-cost transactions.
Dogecoin ranks third with 1,903.34% of 2-year returns, with BNB a close fourth with 1,362.39% 2-year returns.
Cryptocurrencies Ranked by Market Cap (as of July 19th, 2022)
| Rank | Cryptocurrency | Symbol | Current Price | Market Cap |
| --- | --- | --- | --- | --- |
| 1 | Bitcoin | BTC | $22,274.46 | $425,391,298,389 |
| 2 | Ethereum | ETH | $1,542.15 | $185,013,481,329 |
| 3 | Tether | USDT | $1.00 | $66,021,464,171 |
| 4 | USD Coin | USDC | $1.00 | $54,889,908,781 |
| 5 | BNB | BNB | $263.23 | $43,049,072,062 |
| 6 | Binance USD | BUSD | $1.00 | $18,035,001,819 |
| 7 | XRP | XRP | $0.362825 | $17,543,283,002 |
| 8 | Cardano | ADA | $0.501514 | $16,987,891,500 |
| 9 | Solana | SOL | $46.23 | $16,013,711,685 |
| 10 | Dogecoin | DOGE | $0.067753 | $8,993,429,605 |
Market capitalization, otherwise known as market cap, is the total value of coins that have been mined in cryptocurrency. It's typically calculated by multiplying the number of coins in circulation by the current market price of a single coin. Bitcoin comes in with the highest market capitalization by far - $425,391,298,389. Typically market cap reflects the popularity of the coin over a long term and, as the longest standing and first ever official form of cryptocurrency, it's no surprise Bitcoin once again takes the lead.
Ethereum is second to Bitcoin in terms of market share, with an impressive $185,013,481,329 market cap. Launched in 2015, Ethereum has become increasingly popular, particularly in 2022, because Ethereum is a programmable blockchain. Complete with a software network that has the ability to work on new tools, apps, DeFi, smart contracts, and NFTs. That said, as mentioned, Ethereum has launched a revised version of the coin that is much more eco-friendly and, as a result, could drastically increase its scalability and preferability over other coins.
The upgrade to Ethereum 2.0 will see the coin move from high-energy using proof-of-work consensus (like Bitcoin) to proof-of-stake consensus - that improves both sustainability and security. The change was completed in Q4 2022 and projections suggest the currency is poised for a massive increase in market share - with some analysts even predicting Ethereum could overtake bitcoin in overall market capitalization.7
Tether has been set up to try to provide safe digital assets that maintain valuation. Rated third on the list in terms of market cap, Tether is a popular and stable coin that is commonly endorsed by crypto enthusiasts. When compared to Bitcoin, Tether is centralized and linked to real-world currencies, whereas Bitcoin is not. This can make Tether a slightly more stable store of asset value - especially for traders who are looking to crypto as a means to avoid devaluation of local currency.
Cryptocurrencies Ranked by Investor's Approval
| Crypto Name | Symbol | Sentiment |
| --- | --- | --- |
| Shiba Inu | SHIB | 98.62% |
| Cronos | CRO | 96.35% |
| Cardano | ADA | 95.45% |
| Algorand | ALGO | 95.37% |
| VeChain | VET | 95% |
| Polygon | MATIC | 94.64% |
| Litecoin | LTC | 94.40% |
| Avalanche | AVAX | 93.85% |
| Polkadot | DOT | 93.22% |
| Dogecoin | DOGE | 92.51% |
| BNB | BNB | 92.31% |
| Solana | SOL | 90.46% |
| Stellar | XLM | 90.38% |
| Chainlink | LINK | 90.28% |
| TRON | TRX | 87.50% |
| Uniswap | UNI | 87.50% |
| XRP | XRP | 87.45% |
| Ethereum | ETH | 83.04% |
| FTX | FTT | 75% |
| Bitcoin | BTC | 65.22% |
Throughout our research we have looked into different cryptocurrencies and compared their overall approval within the market. Approval was based on the 'bullish (positive) and bearish (negative) opinions of investors. Typically, if approval is over 50%, this means the overall sentiment and trust of investors are positive. 12
At the time data was collected, Shiba Inu ranked the highest for approval across all of the measured cryptocurrencies at 98.62%. Interestingly, Bitcoin is ranked lowest for approval with 65.22% - this is, however, seen as a positive overall response from investors as the rating is still well over 50%.
Methodology
A wide range of sources have been used across multiple sections to create a report outlining the current state of the crypto industry. This includes data on crypto demographics, celebrities which are invested in crypto, the countries and cities which are most invested in crypto, number of bitcoin ATMs in each country/state, current crypto sentiment, a breakdown of the top cryptos by market cap, and the top performing historical cryptocurrencies. Data is correct as of July 19th, 2022.
Section 1: Who's Investing in Crypto?

Metric: Age, Generation, Gender, and Country Of Crypto Investors
Source: https://www.similarweb.com/website/coinbase.com/#ranking
Outline: Using SimilarWeb, we found the Age, Generation, Gender, and Country of crypto users from the top 10 crypto sites in the world to create an understanding of the demographics of crypto investors. We also analyzed internal data.Top ten crypto sites include: Coinbase, Binance, Coindesk, CoinGecko, CoinMarketCap, Gemini, Crypto.com, Kraken, Bitstamp, and BlockFi.
Metric: Interest in crypto by amount of spare money each month and average income of the crypto investor
Source: https://today.yougov.com/topics/economy/articles-reports/2021/08/30/most-americans-likely-stay-shy-cryptocurrency
Outline: We used YouGov to understand where the amount of money investors have spare each month is most popular for crypto investors. We also analyzed internal data.
Metric: Most Popular Cryptocurrency by age generation
Source: N/A
Outline: Internal data
Metric: Celebs invested in crypto
Source: https://www.analyticsinsight.net/top-12-celebrities-who-invested-in-bitcoin/
Outline: We used this list to found the top 10 celebrities which invest in crypto
Section 2: Crypto Capitals of the World
Metric: Country Searching for Crypto the most
Source: https://app.ahrefs.com/keywords-explorer
Outline: Data was taken for countries searching for the top 50 cryptocurrencies along with the terms 'crypto + cryptocurrency'. An overall Search Volume was taken and calculated per 1M of each country's population to see where crypto is being searched the most per person and therefore is most popular
Section 3: Most Popular Cryptocurrency
Metric: Popularity of the world's 50 most popular cryptocurrencies based on Google search trends (Which are the most searched for globally?)
Source: https://trends.google.com/trends/?geo=GB
Outline: Google trends data was used to find the most popular cryptocurrencies globally by popularity
Section 4: The Next Crypto Hubs in America
Metric: Number of Bitcoin ATM's in each US state
Source: https://coinatmradar.com/country/226/bitcoin-atm-united-states/
Outline: This source provided us with the number of bitcoin ATMs in each country/state
Metric: Which U.S. cities are investing in crypto the most?
Source: N/A
Outline: Internal Data
Section 5: State of Crypto
Metric: The Top Performing Cryptocurrencies
Source: https://coinmarketcap.com/currencies/bitcoin/historical-data/
Outline: Coinmarketcap was used to find the historical prices for top cryptos to see which have had the best performance YTD, 1Y and 2Y along with the return percentage
Metric: Current market cap of top 50 cryptocurrencies
Source: https://www.coingecko.com/
Outline: Using CoinGecko we found the top 50 cryptocurrencies and their market caps and ranked them accordingly
Metric: Crypto Sentiment
Source: https://stocktwits.com/symbol/BTC.X
Outline: Stocktwits was used to find the sentiment of each of the top cryptocurrencies based on users' sentiments; this can be recorded as a positive or negative score based on the current sentiment
In reporting on the top performing cryptocurrencies and calculating market cap, we are merely sharing findings as it pertains to past performance, which is not an indication of future performance, and this should not be considered a recommendation of which cryptocurrencies to invest in.
Cryptocurrency accounts are not protected by SIPC coverage. Cryptocurrencies are not covered by the FDIC, which covers fiat currency. Cryptocurrency trading is not suitable for all investors due to the risks involved, including volatile market prices, illiquid market conditions, lack of regulatory oversight, market manipulation, and other risks. You should carefully consider whether or not trading cryptocurrencies is suitable for you in light of your investing circumstances and financial resources.
TASTYTRADE, INC. IS A MEMBER OF NFA AND IS SUBJECT TO NFA'S REGULATORY OVERSIGHT AND EXAMINATIONS. HOWEVER, YOU SHOULD BE AWARE THAT NFA DOES NOT HAVE REGULATORY OVERSIGHT AUTHORITY OVER UNDERLYING OR SPOT VIRTUAL CURRENCY PRODUCTS OR TRANSACTIONS OR VIRTUAL CURRENCY EXCHANGES, CUSTODIANS OR MARKETS.
All investments involve risk of loss. Please carefully consider the risks associated with your investments and if such trading is suitable for you before deciding to trade certain products or strategies. You are solely responsible for making your investment and trading decisions and for evaluating the risks associated with your investments.