Fund your account. Start trading.
Do it online or the old-fashioned way. It's easy to fund however you want.
TRANSFERS SHOULD BE STRESS-FREE, SO PAY LESS IN FEES.
Transfer your IRA or individual account in just 4 steps via ACATS. We don't charge incoming transfer fees. But if your other broker does, we'll reimburse you up to $75 back when you move accounts from another firm (limitations may apply).

2. Choose full or partial transfer
Transfer all your assets in full, or choose what you want to transfer.

3. Authorize the transfer
Upload a statement of an account you are transferring and sign the authorization form.

4. We deposit your assets
We'll process the transfer. ACATS transfer will take 7-10 business days.
How do I get reimbursed for my other broker's transfer fees?
For each minimum transfer of $2,000, we will reimburse the transfer fees from your other broker, up to $75. We'll do our best to reimburse the fees within 5-7 business days from completion of the transfer. If you don't see the transfer credit after the 7th business day, please contact our support team at support@tastytrade.com.
Do you charge a fee to transfer from another broker?
We don't charge an incoming ACATS fee. But the transferring firm may charge an outgoing ACATS fee.
Why is there still money left in my account at another firm after I transferred?
This is common. Dividend or interest payments may occur in your other brokerage account after the transfer was completed. If you requested a full transfer, any remaining cash balance from the other brokerage account will be transferred over automatically in scheduled residual sweeps.
Can I transfer my IRA account to tastytrade?
Yes, you can transfer a traditional or roth IRA using the same method. To start the account transfer, sign in to your account at tastytrade.com, go to My Money, select Deposits, and then click the By ACATS tab.
What if I want to transfer a joint account or an entity account such as an LLC account or a Trust account?
Fill out our simple ACATS form to transfer a joint or entity account. You would need the same type of an account at tastytrade. If you need a little help, see our instructions.
How long does a tastytrade transfer take?
Typically, ACATS transfers take 7-10 business days.
Link your bank — and get buying power instantly
Connect your bank account, and you'll get immediate buying power when you transfer funds, up to $1,000. Plus, we don't charge fees for ACH deposits and withdrawals. You can even link your bank account right from our mobile app.
Step 1:
Log in to your account. Go to My Money and then click Deposits.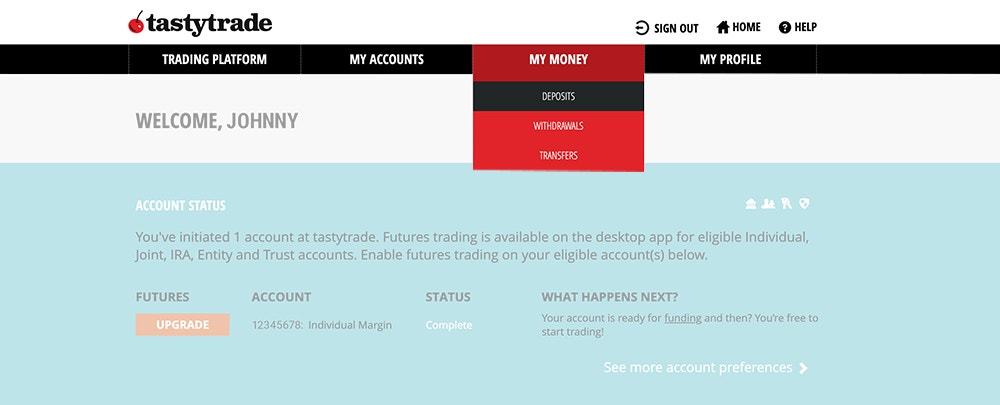 Step 2:
Select your tastytrade account and click Link Your Bank Account.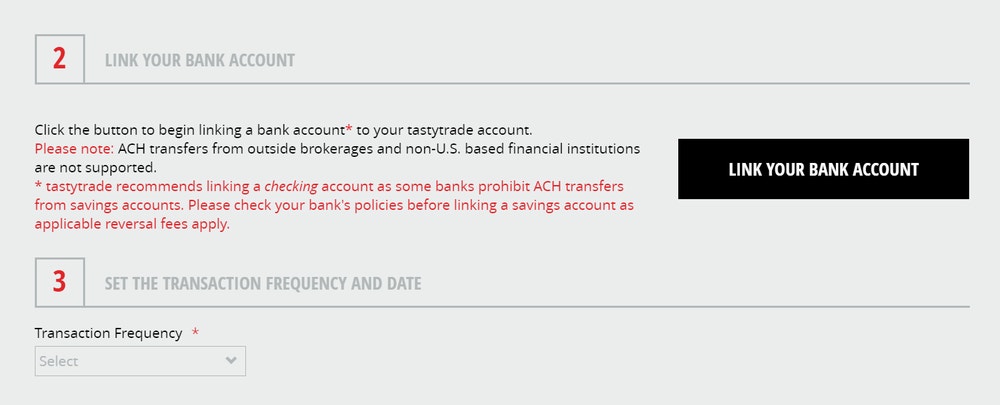 Step 3:
Choose your bank from the list and log in to link your account. You can add your bank info manually if it's not in the list.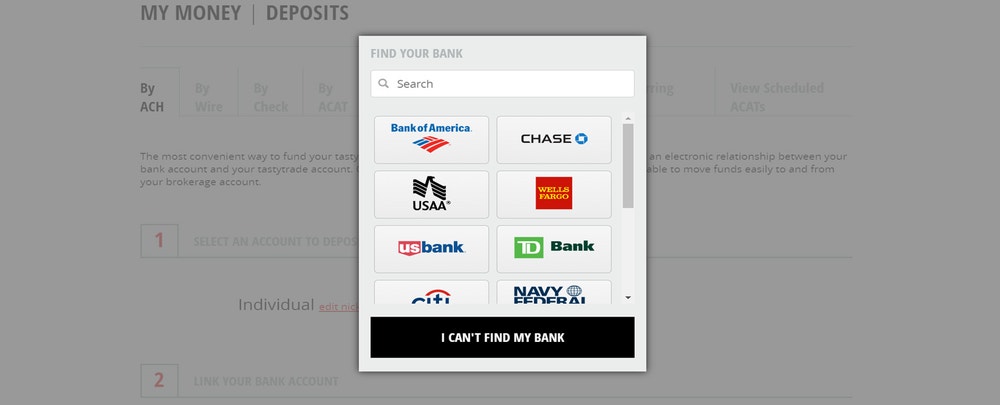 How soon will I have my funds if I link my bank account?
If your bank account is linked with Plaid, the instant bank linking system, up to $1,000 of an ACH deposit will be applied to buying power immediately. You are allowed one instant buying power deposit per day.
Can I make recurring deposits?
Yes, you can set up recurring weekly, bi-weekly, or monthly deposits.
Do you charge for ACH transfers?
There's no cost for deposits or withdrawals performed via ACH.
How do I link my bank account on the mobile app?
You can link bank accounts and submit deposits and withdrawals on our mobile app if you link via Plaid. If your bank isn't listed on Plaid, then you can link via micro-deposits on manage.tastytrade.com. If you want to fund an IRA, you'll also need to do so through our account management site.
You can add funds by wire. Most transfers sent from U.S. banks will be deposited in your account the next business day. Contact your bank or broker to start a wire transfer with this info:
Bank Name & Address
BMO Harris Bank
111 West Monroe Street
Chicago, IL 60603
ABA Routing Number
071000288
For non-domestic wires, use SWIFT Code: HATRUS44.
Recipient/Beneficiary Account Number
1619329
Don't enter your tastytrade account number as the receiving bank account number.
Recipient/Beneficiary Name
tastytrade via Apex Clearing
Recipient/Beneficiary Address
350 N. St. Paul Street
Suite 1300
Dallas, TX 75201
For Further Credit To/Memo
Your full name and tastytrade account number. Make sure the name on both accounts is the same.
Do you charge for incoming wire transfers?
We don't charge an incoming fee for wire transfers.
How soon will my funds be available?
Wires typically post to your account the next trading day after initiating the wire from your bank. Wires from foreign sources can take 3-5 business days to post in your account after initiating the wire from your bank.
What currencies can I fund with?
tastytrade only accepts deposits in USD. tastytrade does not provide any currency conversion services, and funds cannot come from a third party. For international clients who are wiring funds, please see our Funding with Currency Fair Help Center article.
What if my wire form doesn't have a Memo section?
There should be a section that allows you to provide additional information to the recipient of the wire. You should be able to successfully transmit your wire if you provide your tastytrade account number in this field.
Fund by check
Prefer paper? If you deposit by check, your funds will usually be available 4 business days after they're posted to your account. Make the check payable to tastytrade, put your account number on the memo line, and mail it to:
tastytrade, Inc.
Attn: Account Services
1330 W. Fulton St. Suite 600
Chicago, IL 60607
Is there a minimum deposit by check?
We don't have minimum deposits for funding accounts.
What about 401k or 403b Rollover Checks?
Can I withdraw money via check?
Yes! Log in to your account, go to My Money, and select Withdrawals. Once you're there, click the By Check tab. Withdrawals by check are only available to customers in the U.S. and cost a $5 fee per check.
Have more questions? We got answers.