Why upgrade to tastytrade portfolio margin?
Maximize Potential: With portfolio margin, you'll get additional leverage in your account, up to 6.7:1 leverage compared to 2:1 leverage with a margin account. More buying power. More power to trade.*
Minimize Risk: With greater buying power comes greater risk, so we give you the same advanced tools that the tastytrade risk team uses to analyze and visualize your risk. This allows you to dig into the numbers to stress-test your positions and strategies.

Support: Our platform was built by former options traders from the old trading floors. We know trading, and we know the tools you need. And if you need any support, our experienced margin team on our trade desk will give you knowledgeable support.

First, you'll need our highest-level trading account, The Works, and at least $175,000 in securities account equity. Cash and IRA accounts aren't eligible. To maintain portfolio margin, you'll need at least $150,000 in securities account equity at the end of every trading session.
Step 1:
Log in to your tastytrade account. Go to My Accounts, then Trading Preferences. Select the margin account you'd like to upgrade.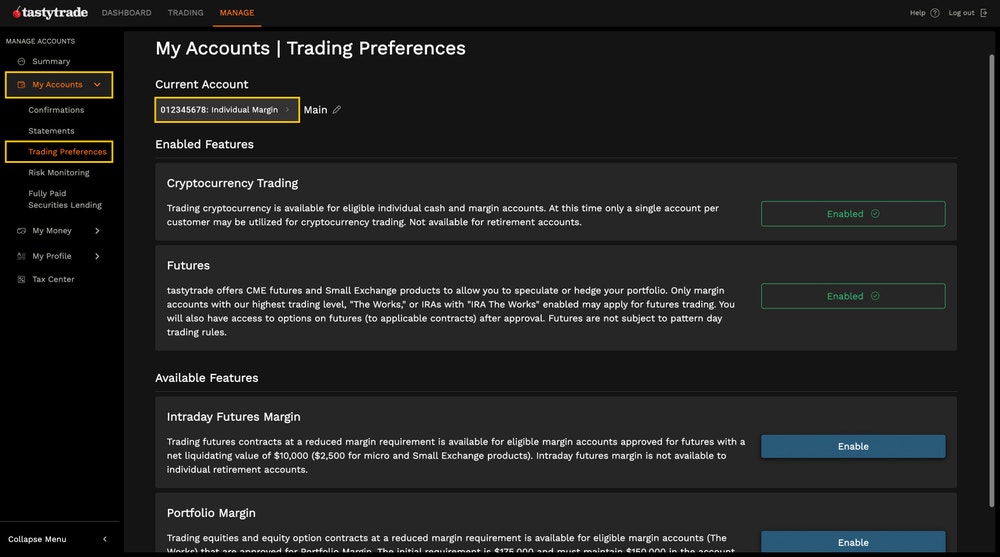 Step 2:
Click "Enable" under Portfolio Margin.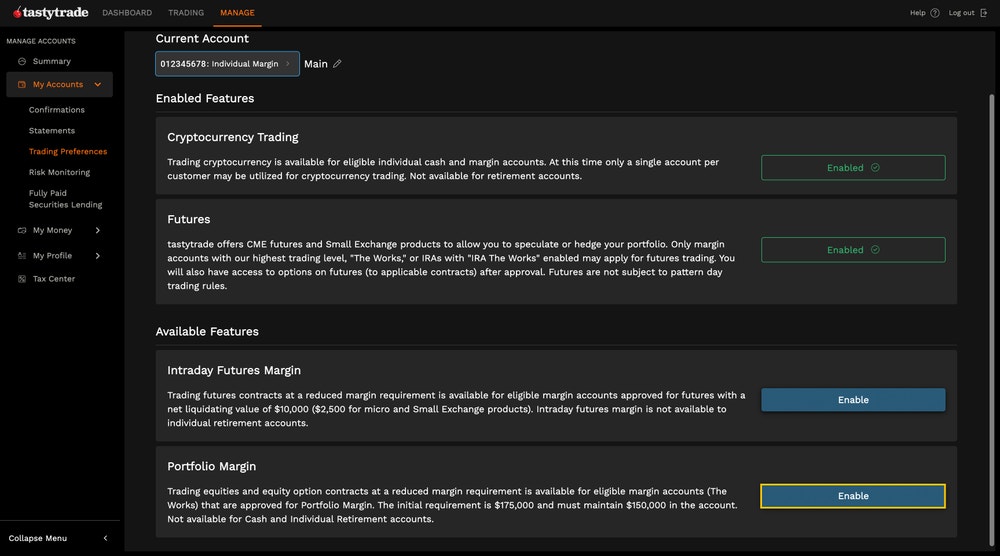 Step 3:
Next, a portfolio margin application will appear. Answer all the questions related to your trading history and intentions, and thoroughly read through the Portfolio Margin Customer Agreement and Portfolio Margin Risk Disclosure Statement. You must first open and read both the agreement and the disclosures before proceeding.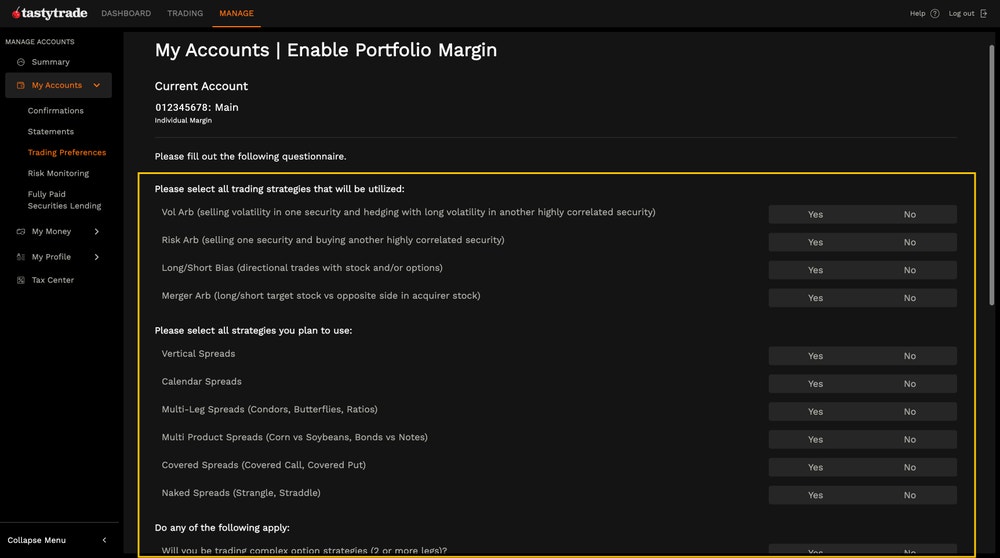 Step 4:
After reviewing all of your portfolio margin application info and the disclosure statements, and if you agree to the conditions of the documents, click "I agree to the conditions of the document(s) above" and then click on "Enable Portfolio Margin."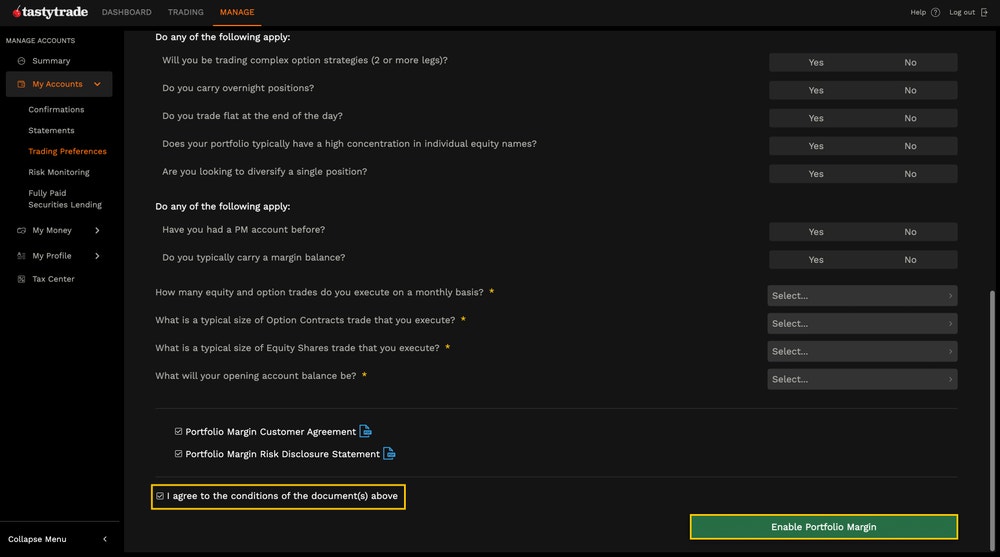 Step 5:
Once submitted, we'll review your application within 3-5 business days, and we'll notify you by email if your account is approved for portfolio margin.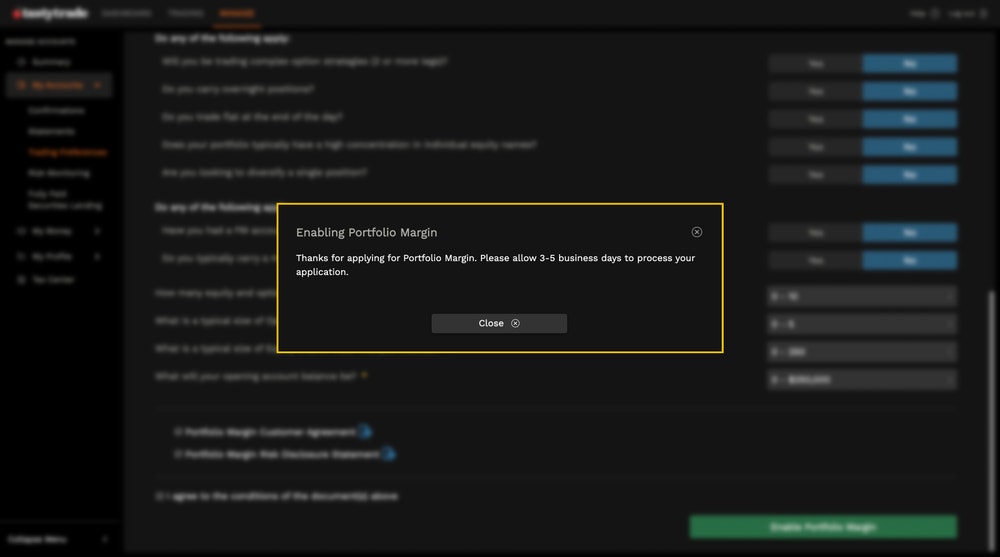 * Portfolio margin account is not suitable for all investors. Trading in a portfolio margin account can substantially increase leverage. However, such increased leverage can significantly increase the risk of loss.